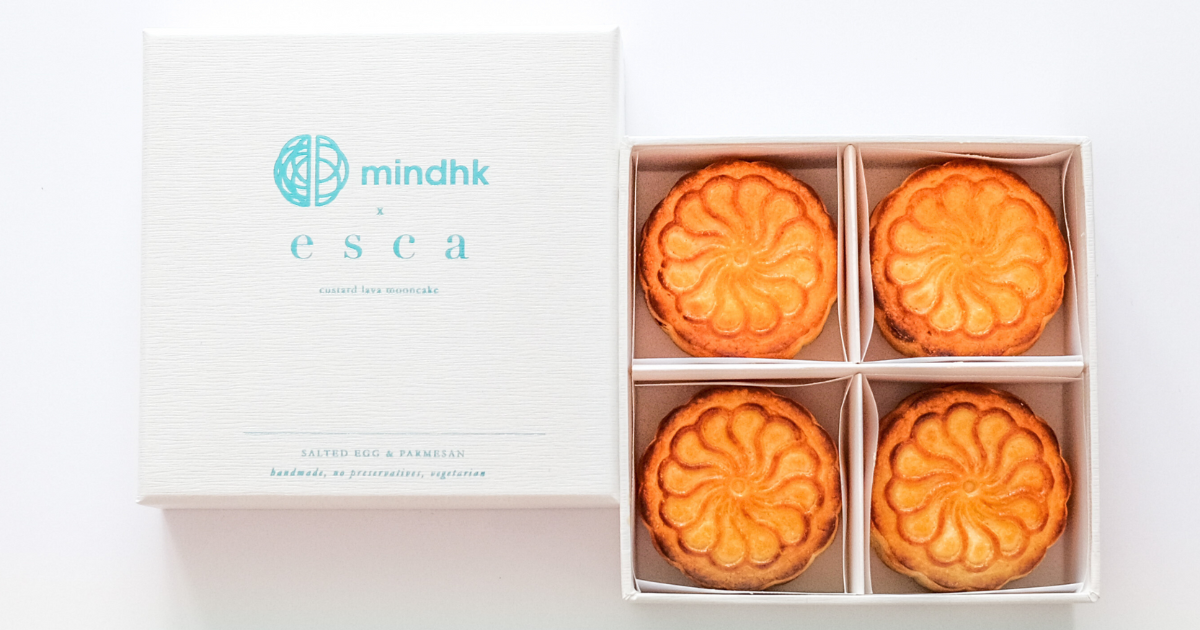 We are thrilled to announce a special collaboration between Mind HK and local mooncake company, esca. 
In celebration of this year's Mid-Autumn Festival, we are jointly launching a limited edition mooncake box to raise awareness of and support mental health and wellbeing in Hong Kong. 20% of all proceeds from the "Mind HK x esca Mooncake Box" will be donated directly to Mind HK, a Section 88 registered charity.
Esca's mooncakes are handmade, vegetarian, and free from preservatives and additives – a delicious and healthy treat for all. The "Mind HK x esca Mooncake Box", priced at HKD 388 (four per box), features the unique salted egg and parmesan flavour.
Funds raised from this collaboration will go towards supporting Mind HK's various mental health initiatives and programs, ensuring that no one in Hong Kong has to face  a mental health problem alone.
Pre-orders for the limited edition "Mind HK x esca Mooncake Box" will be open from July 24. Be sure to place your order before they sell out!
To pre-order and support mental health in Hong Kong, please visit bit.ly/escaxmhk2023pof
Enquiries: Please email [email protected] 
About Mind HK
Mind HK is a registered S88 charity (91/16471) committed to improving awareness and understanding of mental health in Hong Kong. Originally a project under the Patient Care Foundation, Mind HK's website was launched to provide resources for all those experiencing mental health problems. As an independent charity, our online resources, training programmes, campaigns and events are based on global best practice, and here to empower anyone experiencing a mental health problem and equip them with the resources they need. Through collaborative research, Mind HK is leading the way in understanding mental health problems in the city and providing Hong Kong's population with the right support and resources. 
About esca
For more information on esca, please visit www.escahk.com