Food for Thought & Time to Talk!
Mind HK to Celebrate its 5th Anniversary with
Hong Kong's First Ever Mental Health Restaurant Week 2022 
Dine Out at the City's Favourite Restaurants and Support Mental Health this October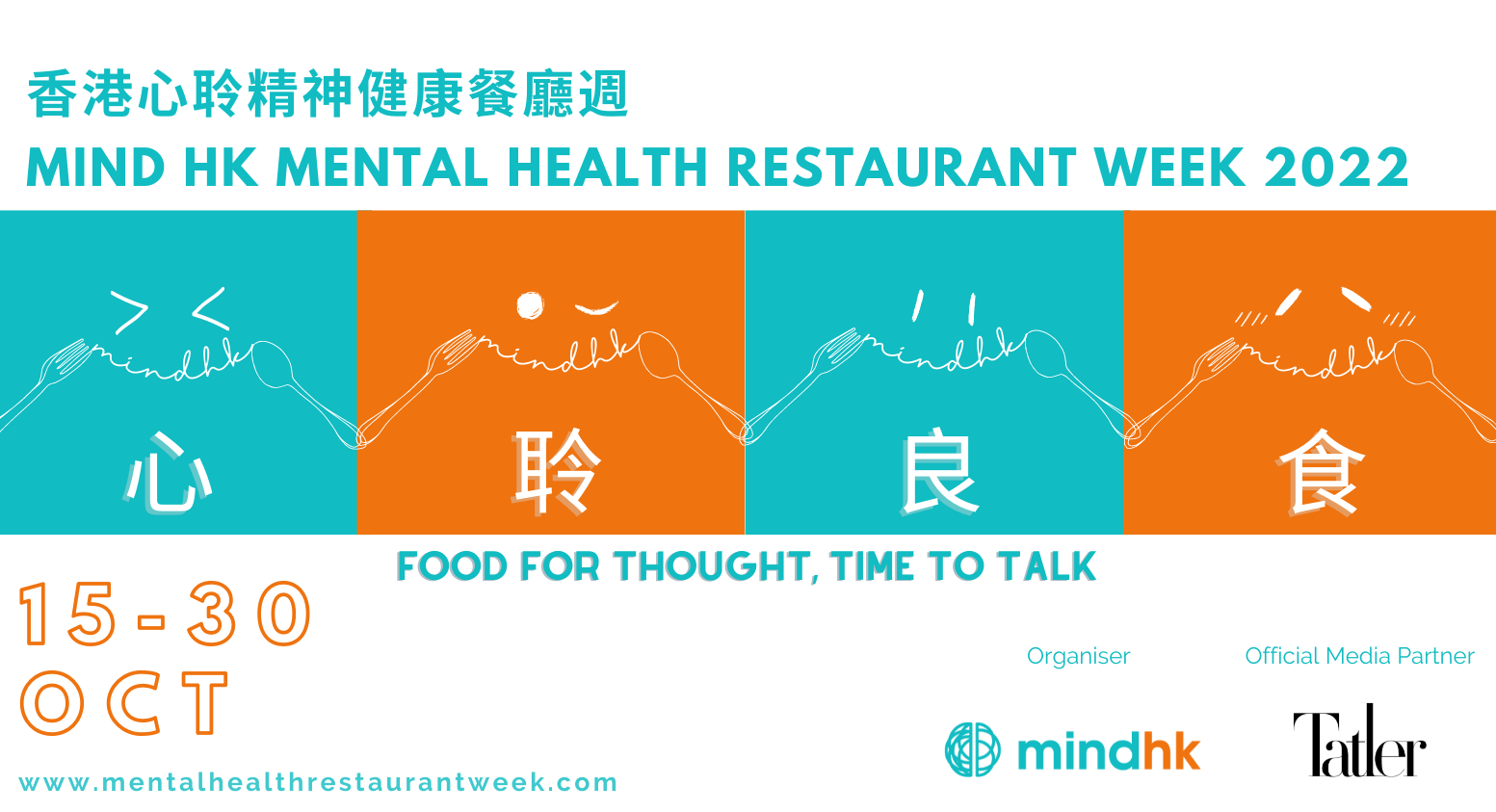 (Hong Kong, 5 October 2022) – For the past five years since its establishment in 2017,  the local mental health charity, Mind HK,  has been making every effort to ensure that no one in Hong Kong has to face mental health problems alone. It's trained over 17,000 in mental health literacy, had over 1.5 million users visit its website for mental health resources and support, and trained 50 wellbeing practitioners to provide free mental health support to young people. Now, to celebrate its 5th Anniversary, the charity is presenting the city's first-ever Mental Health Restaurant Week from 15 to 30 October 2022. Themed under "Food for Thought & Time to Talk", the campaign is collaborating with over 50 of Hong Kong's favourite restaurants and cafés to promote social connection and mental health awareness through food. 
Mind HK is inviting everyone to enjoy quality meals with their loved ones at these restaurants and eateries and help to make a lasting contribution to Hong Kong's mental health. The proceeds raised from the campaign will be donated to support Mind HK in improving accessibility to complimentary or low-cost community-based mental health services for people in need.
A survey by Mind HK conducted in March 2022 showed that around 1 in 5 in Hong Kong are experiencing a mental health problem. Over 50% of respondents reported having poor mental well-being, according to the standards of the World Health Organisation (WHO – 5) Well-being Index. However, over 48% of respondents who had been diagnosed with a mental health problem reported that they had never disclosed their problem to anyone. This reflects a clear lack of understanding of mental health knowledge and also suggests a shortage of accessible, stigma-free, low-cost professional services in tackling the rising demand for mental health help. 
Hong Kong has gone through a difficult few years, and this restaurant week seeks to support the city as it reopens to the world and recovers from the direct and indirect effects of the COVID pandemic. Evidence shows that communal eating and eating out with family and friends can improve emotional well-being, and help make us feel happier and more satisfied with life which, in turn, benefits our mental health. It can also foster deeper family bonds, warmer friendships and better inter-community connections that people can depend on for mental support. 
Mind HK is joining hands with a wide array of dining outlets, ranging from eateries serving Hong Kong's beloved Chinese, Western, Korean and Japanese cuisines, to bars and cafés across the city. The campaign encourages everyone to participate to support their own and others' mental health through spending more quality time with people around them at the dining table. It also serves as a way to help the Food & Beverage sector get through the challenges in the wake of the pandemic. Highlighted eateries include, but are certainly not limited to Duddell's, Louise, Ming Court (Wan Chai & Cordis), Fumi, Salisterra, Bedu, Matchali, MONMONO, Hjem, Cookie Department (DPT) and more. 

Dr Candice Powell, the CEO of Mind HK said, "Social connection is a pillar of lifestyle medicine for all ages – It is critical for promoting well-being and can also be a great social cure for mental ill-health. Dining together is our teams' and Hong Kong's most prized way of creating social connections. We are beyond grateful to all the restaurants across the city who are joining us in celebrating Mind HK's 5th Anniversary in this way and in our efforts to support COVID recovery and the mental health of all in Hong Kong."
Tiffany, a Mind HK ambassador and certified vegan chef and plant-based nutritionist said, "Happiness is eating together. Every ounce of support I found was at the dinner table. It is where we laugh, cry and yell at each other, but most importantly, it is where we bond and connect. Sometimes, just spending some quality time with some good company and warming comfort food  is the only therapy you need. It is through nourishing food and open conversations that we unearth and celebrate the common threads among us all."
Chef Antimo Maria Merone, from Estro said, "The food and beverage business is a very satisfying and pressuring world at the same time. With irregular working hours and constant interaction with people, we, restaurant operators and owners have the duty to take care of our people and provide a healthy and safe working environment. "Mens sana in corpore sano (a sound mind in a sound body)."
Every meal purchased during the restaurant week is also a commitment to improving mental health support within the local community. With the generous support of all the participating restaurants, funds raised from the campaign will be donated to supporting the development of Mind HK's Improving Access to Community Therapies (iACT) initiative, which will involve training new therapists (Mind HK's well-being practitioners) to provide free or low-cost mental health support to individuals in need in Hong Kong. Similar interventions overseas found that 50 – 70% achieve recovery status after treatment. This can help create a sustainable, long-term solution to addressing mental health problems in Hong Kong. 
Food for Thought & Time to Talk! Visit www.mentalhealthrestaurantweek.com to check out the full list of participating restaurants and make your reservations now. Treat your taste buds to the specially crafted signature delights from well-known chefs, and support Mind HK in advancing its mission to make mental health support more accessible in Hong Kong. To find out more about Mind HK and for charitable donations in honour of their 5th anniversary, please visit https://www.simplygiving.com/event/mindhkturns5.
-END-

Details about Mind HK Mental Health Restaurant Week 2022
Date: 15 – 30 October 2022 
For participating restaurants and more information about the campaign, please visit the official website: www.mentalhealthrestaurantweek.com
High Resolution Image to Download:
https://www.dropbox.com/scl/fo/x9a7yjfx1l087kirks5ff/h?dl=0&rlkey=wkx5mm2vtg2ha4kaobfv4nqtv
Press Enquiries:
Chance Communications
Jeff Chan / Chloe Hung 
E: [email protected]/ [email protected] 
T: +852 2509 3308

Mind HK
Carol Liang, Deputy CEO, Mind HK 
Emet So, Communications Coordinator, Mind HK 
About Mind HK
Mind HK (Mind Mental Health Hong Kong Limited) is an S88 registered charity (91/16471), which was launched in 2017. The organisation's vision is to ensure that no one in Hong Kong has to face a mental health problem alone. Through resources, training, and outreach campaigns and programmes, the work of Mind HK helps to raise awareness of mental health and reduce the associated stigma, with the aim of achieving the best mental health for all in Hong Kong. With existing collaboration and research efforts, Mind HK is here to support Hong Kong in becoming a global leader and regional model for public mental health. For more on their work, vision, and mission, please visit www.mind.org.hk. 
Mind HK's Social Media Platforms:
Facebook: @hongkongmind / Instagram: @mindhongkong